As a business you may choose to either display Sherpa's delivery rates to your customers as-is, by postcode or have custom customer-facing delivery flat rates based on their distance (i.e. the delivery location) from the store/pick up location.
You can also
Add a margin (percentage or dollar amount)

Offer free delivery if cart total is over a nominated amount

Specify a combination of the above for each delivery option and radius

Label the rate as you wish it to appear at checkout

When not using the calendar, have different rate labels depending if the delivery is for today, or next available day
Set Sherpa Delivery Rates
Before you enable the app, you must configure the delivery services you wish to offer your customers
From your Shopify dashboard select Apps > Sherpa Delivery
Select Delivery Rates from the header navigation
Tick the Sherpa services you wish to offer your customers (eg 2hr delivery, 4hr delivery, same day delivery)
When you select a service, it will expand with some options:

Display on checkout as = how that option will show to your customers
Limit windows = how many time slots you wish to show to your customers

Under Set Rates you can determine what rates are shown for Sherpa Delivery

Select Add Rate
Select the radius you wish to offer delivery up to (for example, you may only wish to offer 2hr delivery for customers within a 10km radius)
Select the type of rate to charge:

Calculated = Dynamic Sherpa rates for that delivery radius
Flat rate = Specify your own rate for that delivery radius
No rate = Do not show Sherpa rates for that delivery radius

You can decide if you want to offer rates for 'all other areas' or set other areas to 'no rates'

If you have Bulk rates, you must set a flat rate
Select Save Settings
Bulk rates reflect your user account settings
Sherpa offers discounted rates for customers with 20+ orders per day. If you have bulk rates enabled on your account, delivery windows shown at checkout will match times set up in your Sherpa account.
For bulk rates you must set a flat rate.
Your operating hours must be at least set to the deliver-by time set in your user account. Contact sales@sherpa.net.au if you require any assistance.
Delivery today, or next available day
If you have disabled the calendar (Delivery Date Selection) under Location Details, your customers will see Sherpa rates available at cart for the current day, or if the delivery windows for current day have passed, the customer will be shown rates for the next available date for that service. For example, if you are using Same Day rates, and the customer orders after 12pm, they will still see the rate, but for the next available day. You are able to chose to not show next available day rates at all, and if you do, you have the option to change the name. So you may wish to call your 'Delivery today' and the next available date could be 'Local Delivery' or 'Delivery anytime'.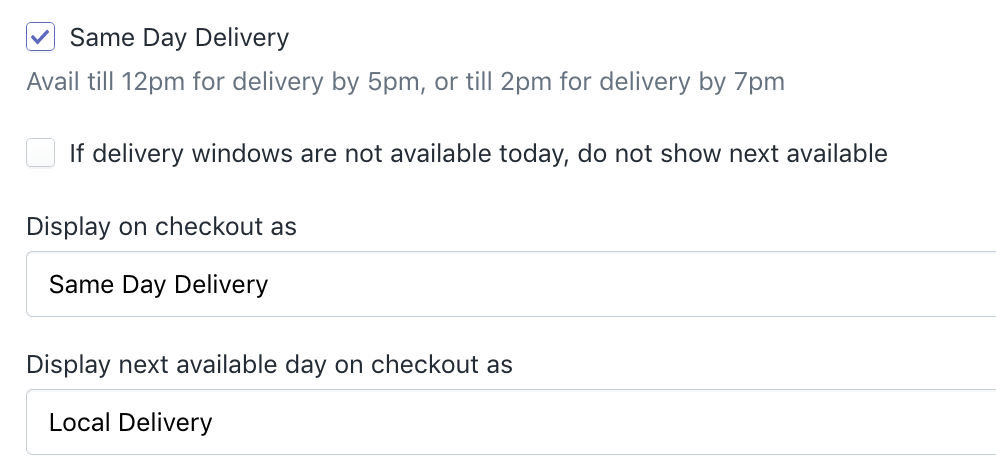 Should you need further assistance with our apps and plugins, please send an email to plugins@sherpa.net.au or log a support ticket via our help desk.